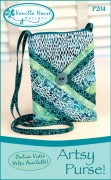 Endless possibilities when customizing these sweet purses! Totally stylish but still easy to make! Inside the pattern are exclusive codes to view helpful tutorial videos.
Pin It
Pocket Purse
This quick-to-make pocket purse is perfect for teens and adults alike. The purse comes in four sizes — 4, 5, 6, and 7 inches; the smallest being perfect for a cell phone and the largest perfect for everything. You can make it with or without a flap within an hour's time! See the instructions about using a 7″ polyester zipper for each of the sizes!
This pattern can be shipped to you in the mail, or emailed to your inbox.