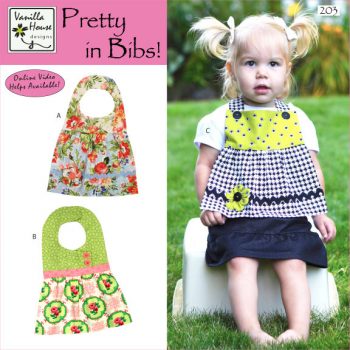 Three darling dress-up bibs for baby girls. Each version comes in a smaller size (3 to 12 months) and a larger size (12 to 30 months).
This pattern is available as a downloadable ePattern or a printed pattern to be mailed to you.

There are three different versions of the bibs: One with a two-part overlapping yoke, one with a solid piece yoke, and one with neck straps. Instructions for both the small and large sizes of all three versions are included in the pattern and pictured on the front cover.
Inside the pattern are 4 codes to let you view helpful online videos that will demonstrate techniques found in the pattern.